All broken bones go through the same healing process. This is true whether a bone has been cut as part of a surgical procedure or fractured through an injury. The bone healing process has three overlapping stages: inflammation, bone production, and bone remodeling.
Inflammation starts immediately after the bone is fractured and lasts for several days. When the bone is fractured there is bleeding into the area, leading to inflammation and clotting of blood at the fracture site. This provides the initial structural stability and framework for producing new bone.
Bone production begins when the clotted blood formed by inflammation is replaced with fibrous tissue and cartilage (known as "soft callus"). As healing progresses, the soft callus is replaced with hard bone (known as "hard callus"), which is visible on x-rays several weeks after the fracture.
Bone remodeling, the final phase of bone healing, goes on for several months. In remodeling, bone continues to form and becomes compact, returning to its original shape. In addition, blood circulation in the area improves. Once adequate bone healing has occurred, weightbearing (such as standing or walking) encourages bone remodeling.
What Is a Puncture Wound?
Puncture wounds are not the same as cuts. A puncture wound has a small entry hole caused by a pointed object, such as a nail that you've stepped on. In contrast, a cut is an open wound that produces a long tear in the skin. Puncture wounds require different treatment from cuts because these small holes in the skin can disguise serious injury.
Puncture wounds are common in the foot, especially in warm weather when people go barefoot. But even though they occur frequently, puncture wounds of the foot are often inadequately treated. If not properly treated, infection or other complications can develop.
Proper treatment within the first 24 hours is especially important with puncture wounds because they carry the danger of embedding the piercing object (foreign body) under the skin. Research shows that complications can be prevented if the patient seeks professional treatment right away.
What is a Soft Tissue Biopsy?
A soft tissue biopsy is the removal and microscopic examination of a small sample of soft tissue for diagnostic purposes. "Soft tissue" includes the skin, fat, muscle, and tendons that surround, connect, or support other tissues or organs.
Soft tissue biopsies require little time or involvement from the patient. They enable the foot and ankle surgeon to reach an accurate diagnosis and determine the best treatment for the specific condition.
Kneeling Stretch
Starting on your hands and knees, put the bottoms of your toes flat on the floor and sit back on your toes as much as you can. Then point your toes backward and sit back again. Hold _____ seconds. Repeat _____ times per day.
Sizing Crutches
Even if you've already been fitted for crutches, make sure your crutch pads and handgrips are set at the proper distance, as follows:
Crutch pad distance from armpits: The crutch pads (tops of crutches) should be 11/ 2″ to 2″ (about two finger widths) below the armpits, with the shoulders relaxed.
Handgrip: Place it so your elbow is slightly bent – enough so you can fully extend your elbow when you take a step.
Crutch length (top to bottom): The total crutch length should equal the distance from your armpit to about 6″ in front of a shoe.
What Is an Ingrown Toenail?  
When a toenail is ingrown, it is curved and grows into the skin, usually at the nail borders (the sides of the nail). This digging in of the nail irritates the skin, often creating pain, redness, swelling and warmth in the toe.
If an ingrown nail causes a break in the skin, bacteria may enter and cause an infection in the area, which is often marked by drainage and a foul odor. However, even if the toe is not painful, red, swollen or warm, a nail that curves downward into the skin can progress to an infection.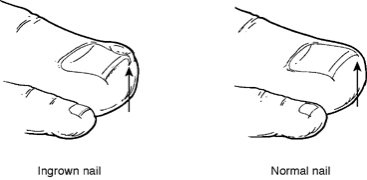 Causes
Causes of ingrown toenails include:
Heredity. In many people, the tendency for ingrown toenails is inherited.
Trauma. Sometimes an ingrown toenail is the result of trauma, such as stubbing your toe, having an object fall on your toe or engaging in activities that involve repeated pressure on the toes, such as kicking or running.
Improper trimming. The most common cause of ingrown toenails is cutting your nails too short. This encourages the skin next to the nail to fold over the nail. 
Improperly sized footwear. Ingrown toenails can result from wearing socks and shoes that are tight or short.
Nail conditions. Ingrown toenails can be caused by nail problems, such as fungal infections or losing a nail due to trauma.
 
Treatment
Sometimes initial treatment for ingrown toenails can be safely performed at home. However, home treatment is strongly discouraged if an infection is suspected or for those who have medical conditions that put feet at high risk, such as diabetes, nerve damage in the foot or poor circulation.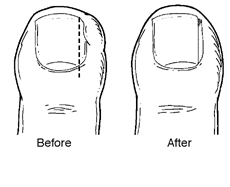 Home Care
If you do not have an infection or any of the above medical conditions, you can soak your foot in room-temperature water (adding Epsom salt may be recommended by your doctor) and gently massage the side of the nail fold to help reduce the inflammation.
Avoid attempting "bathroom surgery." Repeated cutting of the nail can cause the condition to worsen over time. If your symptoms fail to improve, it is time to see a foot and ankle surgeon.
Physician Care
After examining the toe, the foot and ankle surgeon will select the treatment best suited for you. If an infection is present, an oral antibiotic may be prescribed.
Sometimes a minor surgical procedure, often performed in the office, will ease the pain and remove the offending nail. After applying a local anesthetic, the doctor removes part of the nail's side border. Some nails may become ingrown again, requiring removal of the nail root.
Following the nail procedure, a light bandage will be applied. Most people experience very little pain after surgery and may resume normal activity the next day. If your surgeon has prescribed an oral antibiotic, be sure to take all the medication, even if your symptoms have improved.
Preventing Ingrown Toenails
Many cases of ingrown toenails may be prevented by:
Proper trimming. Cut toenails in a fairly straight line, and do not cut them too short. You should be able to get your fingernail under the sides and end of the nail.
Well-fitting shoes and socks. Do not wear shoes that are short or tight in the toe area. Avoid shoes that are loose because they too cause pressure on the toes, especially when running or walking briskly.
ENGLISH  |  SPANISH
*This information has been prepared by the Consumer Education Committee of the American College of Foot and Ankle Surgeons, a professional society of over 6,000 foot and ankle surgeons. Members of the College are Doctors of Podiatric Medicine who have received additional training through surgical residency programs.